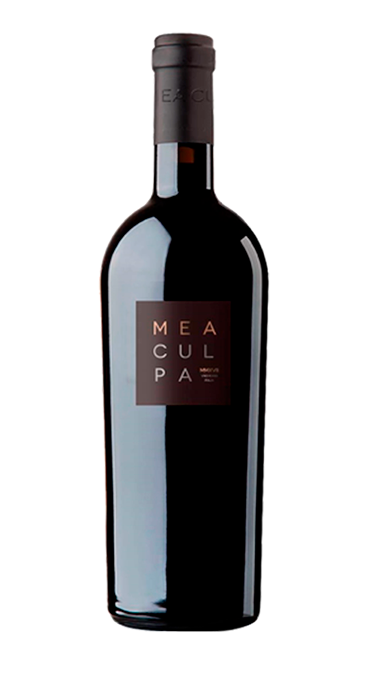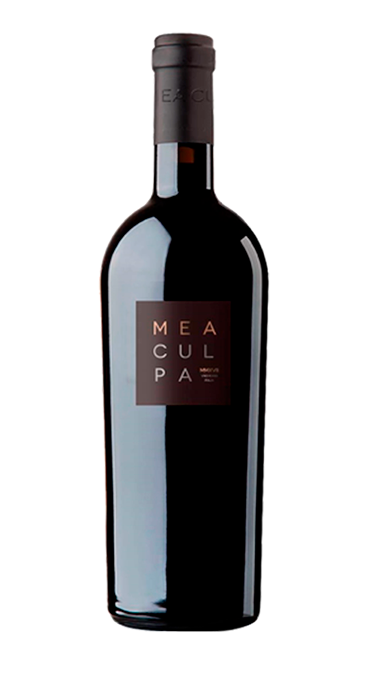 In the world of wine, people talk about passion but often glibly and without the right soul that an outstanding wine deserves. On the contrary, I like to think of MEA CULPA as fascinating, original and, why not, heretical.
This Red Wine of great opulence is the final result of many people's work, vineyard workers, cellar men who, in different parts of our extraordinary Southern ltaly, have given their tribute to the creation of a synergy of tastes, perfumes and sensations which are proudly hold in each single bottle of MEA CULPA.
lts originality and heresy flow from my ambition to combine the best of two Italian regions, Apulia and Sicily, so to obtain an intriguing balance of power and elegance, result of the vines dedicated to this project.
I do not like to emphasize a wine but I am proud to say that MEA CULPA is the fruit of a lot of work and, most of all, of the respect that we have reserved to the grapes during their growth, their harvest, during the drying, where necessary, during the vinification and the refining in elegant and discrete woods.
When you open a bottle of MEA CULPA and pour into a big glass, you are stroked by its deep purple color, very intense and never obviously gloomy. You are caught right away by its scent of chocolate which soon develops into clear notes of strawberries and raspberries which flirt with sophisticated vanilla hints.
MEA CULPA surprises for its mellow structure which combines its natural softness with its smooth tannins, prelude of a surprising persistence. Dare: serve it slightly cool!
[unex_ce_button id="content_ijr7j3ctg,column_content_hwzup57y5" button_text_color="#000000" button_font="semibold" button_font_size="11px" button_width="auto" button_alignment="center" button_text_spacing="2px" button_bg_color="#ffffff" button_padding="5px 25px 5px 25px" button_border_width="1px" button_border_color="#000000" button_border_radius="0px" button_text_hover_color="#ffffff" button_text_spacing_hover="2px" button_bg_hover_color="#000000" button_border_hover_color="#000000" button_link="http://www.cantineminini.it/wp-content/uploads/2017/09/hr_minini_mea_culpa.png" button_link_type="url" button_link_target="_blank" has_container="" in_column="1"]IMAGE[/ce_button]
[unex_ce_button id="content_ijr7j3ctg,column_content_v5balpur4" button_text_color="#000000" button_font="semibold" button_font_size="11px" button_width="auto" button_alignment="center" button_text_spacing="2px" button_bg_color="#ffffff" button_padding="5px 30px 5px 30px" button_border_width="1px" button_border_color="#000000" button_border_radius="0px" button_text_hover_color="#ffffff" button_text_spacing_hover="2px" button_bg_hover_color="#000000" button_border_hover_color="#000000" button_link="http://www.cantineminini.it/wp-content/uploads/2020/10/Mea_Culpa_EN.pdf" button_link_type="url" button_link_target="_blank" has_container="" in_column="1"]PDF[/ce_button]